Entrepreneur of the Year 2008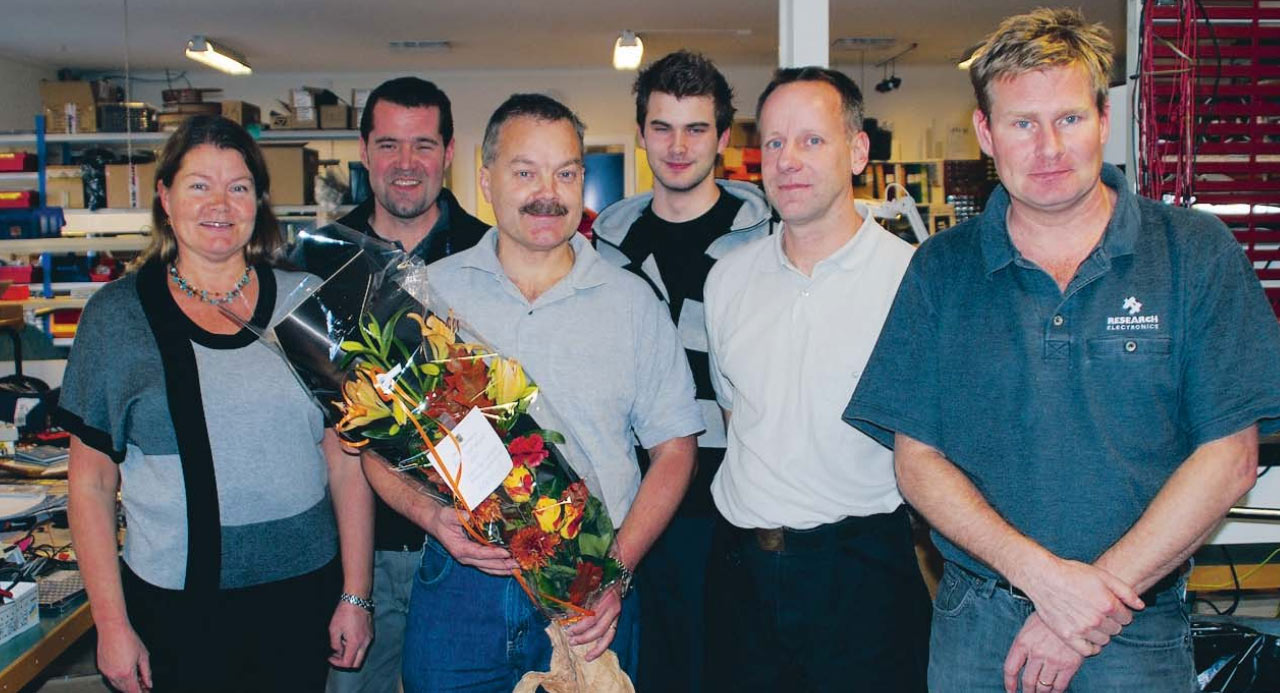 Dalarnas Tidningar:
2008-10-09 (text & photo: Annki Hällberg)
Full story in Swedish:
Deras produkter når ända till Mars / "Their products reach all the way to Mars" (pdf)
– Advertising is a waste of money for us. The Entrepreneur of the Year in Dalarna gets its customers through recommendations and by having clear address labels on everything we supply.
– The things we make cannot be bought anywhere else, says CEO and co-owner Sven-Åke Eriksson of Research Electronics AB in Siljansnäs. As with many other companies, it all started with an idea at home on the kitchen table. With a Master's degree in engineering physics, well advanced on his doctoral thesis and with a place in the research community more or less mapped out for himself, Sven-Åke Eriksson, despite all this, dared to go his own way 21 years ago.
– In the beginning, I was sat in the attic thinking up solutions and my brother was sat in the basement soldering. Sometimes we would meet in the middle, he says, smiling at the memory. Today the company has ten employees, sales of around SEK 10 million, large premises at Företagshuset in Siljansnäs and the whole world as its workplace.
– There's no reason why we can't stay here. If things go as planned, we will also expand, but that is in the future. Sven-Åke Eriksson is CEO and part-owner of Research Electronics AB, which he runs with his brother, Hans Eriksson. His sister Carina Eriksson also works in the office.
– All our employees are handpicked for their specific tasks. Of course, a degree in a technical subject is important for the company, but in some cases we may also need other combinations.
Tailored electronics systems
In simple terms, you can say that Research Electronics AB tailors electronics systems. Its customers are diverse, to say the least. The Siljansnäs company's expertise is used by both the American space agency NASA for the investigation of geological conditions on Mars and the Swedish Nuclear Fuel and Waste Management Company (SKB) for collecting data in boreholes kilometres deep. They can be found in lift control systems, arrange fixed satellite contact to provide broadband, telephony and television to cruise ships, help the Ångström Laboratory at Uppsala University and the Uppsala Institute of Technology when they require precision control of the gas flow in a vacuum chamber, and so on.
– For us the only limit is your imagination, and sometimes finances. What the customer wants might be such a wild idea that the technology does not exist yet, but otherwise it makes sense.
– If aviation technology had developed at the same pace as our industry, people might have been on the moon six months after the first successful flight in 1904!
Dalarna's representative in the national competition
Last week, Sven-Åke Eriksson was named Entrepreneur of the Year in Leksand and then Entrepreneur of the Year in Dalarna. This means that he is now Dalarna's representative for the Entrepreneur of the Year in Sweden award, which will be announced on 14 November.
The other day he received the accolades from both the municipality of Leksand and Entrepreneurs in Leksand, represented by Holger Nilsson, and Karin Torneklint, Regional Head of Entrepreneurs in Dalarna.