Control concept for Refox treadmills and skiing treadmills
Refox manufactures equipment for physiological monitoring and training, primarily treadmills, but also skiing treadmills. Customers include the emergency services in Sweden, Norway and Finland, as well as elite skiers and runners around the world.
Research Electronics has been involved from the start of the process to develop a control concept for the treadmill, which maintains the exact speed regardless of load. In the early 1990s, the emergency services replaced their cycle-based physical test with a standardised program on treadmills, developed by Refox and Research Electronics. The treadmill is able to maintain a high correlation between speed and weight, so the readings are as accurate as possible. Many elite runners also use the treadmill for qualitative training during the winter season.
The treadmill's control box contains pre-programmed routes for running or skiing. In recent years, it has been updated with a smart card interface, enabling you to add your own courses. For example, you can run your own course with a GPS and then load it into the box, or choose a pre-recorded route, such as the GöteborgsVarvet race.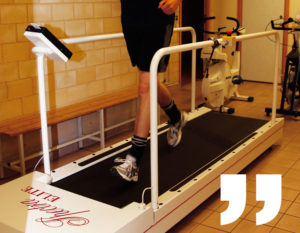 Research Electronics have been there from the beginning and have helped me with development and programming. They have unique expertise and can always help to find solutions. It gives you a great feeling of confidence.
/ Leif Carmling, Refox
More
customised solutions